Clay Starbuck Updates
Thank you Kathy Starbuck Nasholm for sending corrections.
I highlighted Ms. Nasholm's updates. Mitchell D. Miller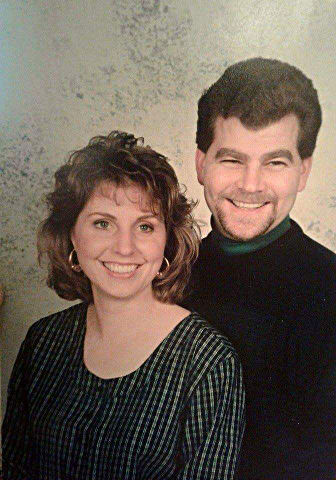 Clay Starbuck married Chanin Conway in 1990. Clay and Chanin lived in Deer Park, Washington. They divorced in 2000, remarried in 2006, finally divorced again in July, 2011.
Clay earned about $10,000 a month, working for Alyeska Pipeline Service Company in Alaska. Clay's Dad worked there as a security officer from 1977 until his retirement in 2000.
Chanin did not work. She was a full-time Mom to five children. Although Chanin held a Associate's Degree in Art Therapy from Seminole State College, she wanted to work as a dental assistant. Chanin had recently graduated from Dental Assistant's School in Spokane, Washington.
Unfortunately, someone strangled Chanin on December 1, 2011. It was brutal. The murderer shot Chanin with a stun gun before binding her wrists and breaking 11 ribs broke 11 ribs.
Chanin was not shot with a stun gun, and wrists were not bound. There is no evidence of this and is not what the autopsy reported, only what Prosecution embellished.

Kathy Starbuck Nasholm
The murderer posed Chanin's body with a dildo, to make it look like a sex crime.
The dildo did not contain Clay Starbuck's fingerprints. An unknown male's semen was in Chanin.
1

The murderer posed Chanin's body with a dildo and massager.

2

The only fingerprint lifted from any items of evidence, was that of the massager, which did not belong to Clay.

Kathy Starbuck Nasholm
Someone used Chanin's phone to call 911. The operator said, "a short high pitched guttural sound of a female followed by rustling noise consistent with a struggle, and then the phone was disconnected."
The operator called back, but the call went to voicemail. Unfortunately, the 911 operator violated procedure by not reporting the call to investigators.
Clay Duane Starbuck did not have a criminal record. Nevertheless, he was the only suspect. Police charged Clay with Chanin's murder.
D-I-V-O-R-C-E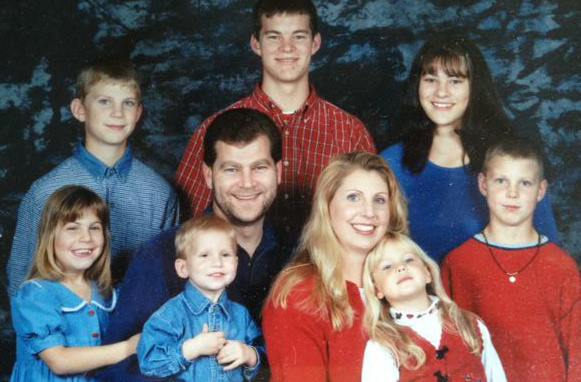 Clay fell behind on his child support payments after a back injury and surgery in 2010. Despite his injury, Chanin inexplicably asked a judge to send Clay to jail, because he owed her child support.
He paid Chanin about $4,700 a month for child support. Clay owed Chanin $9,166 of back child support when she was murdered.
Chanin was mean! Her request was denied.
1

Chanin was receiving child support through garnished wages. At the Oct 28, 2011 divorce hearing the Commissioner told Clay to stop paying Chanin's bills outside of DSHS as the Commissioner could not give him credit for much of it. The financials were not right so the Commissioner said she wanted a Cr60 (would be a Cr60 (b)) to come across her desk, which gave them a period of time to work it out.

2

What Clay learned well after trial, is that Chanin and her attorney used May 2008 pay advices for the July 2011 divorce, which skewed the financials. Once the financials were worked out, Chanin would keep receiving payments through garnished wages as is normal.

3

Any amount causing arrears was due to their calculated screwing with figures. Not because Clay wasn't paying or wasn't giving his fair share. Clay doesn't control the garnishment, the State does. It isn't rocket science and the attorneys on both sides know that.

4

Prosecution was good at taking one­liners out of context and twisting it. When mail was sent to Chanin's residence address (as in the case of the Expedition loan), she wasn't making the car payment, wasn't giving Clay the notices to pay or repossession was looming, until 3 days before $15k was due.

He said good job giving me 3 days notice on $15k you know it takes more than 3 days to get that kind of money transferred.

5

Prosecution did not portray the truth. How is, "We will need to talk about how to recover", a bad thing?

Kathy Starbuck Nasholm
Chanin also filed an Order of Protection against Clay, to prevent him from visiting her. This did not make sense either, because Clay usually picked up his children at Chanin's house to drive them to school, when he was in Deer Park.
Clay, like many divorced fathers, sent angry texts to his ex-wife about finances and a desire to spend more time with his children.
Prosecution cited general divorce arguments, that every divorced parent experiences, as reasons for Clay to murder Chanin.
Chanin Starbuck's Boyfriends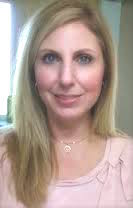 Clay Starbuck claimed Chanin met men online, and slept with them. Police found evidence of Chanin's relationships on her laptop computer.
Chanin's sons told a newspaper that she started online dating 14 years before her murder.
She would leave early in the morning, two in the morning, come back five, six and my neighbor was worried about the safety of my three younger siblings.

Blake Starbuck
One of Chanin's lovers was John Kenlein, a married high school teacher. Kenlein visited Chanin on the day she was murdered.
1

The kids claimed that their mother had a habit of seeing other men, and she did. It is easy to portray an ex­husband as a monster. Smack­talk hearsay was enough to set Clay up and not look any further.

2

Detectives told Clay to confess or they would keep his kids from him, which they did.

3

Chanin lied to her family, her church and her friends, saying horrible things about Clay in order to divert attention from her secret lifestyle and put a volatile attention on Clay.

Kathy Starbuck Nasholm
DNA on Chanin's phone and a vaginal swab matched an unknown male.
Despite the evidence, a jury convicted Clay Starbuck of Chanin's murder, and sentenced him to life without parole. He is prisoner 366799 at Clallam Bay Corrections Center, in Clallum Bay, Washington.
I didn't want Clay to be guilty because of those kids.

I went into this trial with an open mind, I tried being objective.

The majority of the jury thought he was guilty from the beginning of deliberations.

Juror #7
1

It was stated that the majority of the jury thought Clay was guilty from the beginning of deliberations.

When you have a Lead Detective a few feet from you saying, "We got our man, it's a match, it's a match, it's a match", I would expect they would think he was guilty right away.

But it isn't a match any more than you are.

2

Without a match of at least 16 loci, the forensics supervisor could not say it was a match and did not say it was a match.

Kathy Starbuck Nasholm
Incredibly, the judge considered evidence of Chanin's risky lifestyle prejudicial, and excluded it from the trial.
Starbuck's attorneys complained about the excluded evidence during Clay's appeal. However, the State of Washington ruled:
Whether or not the victim was dating multiple other men simply did not inform the jury about the identity of her killer.
1

It shouldn't be Clay's job to identify the killer. He would have no way of knowing that. It is the job of Major Crimes Detectives to investigate.

2

Chanin dating multiple men, and the sheer numbers of men she was communicating with in the month of November alone, should simply inform the jury that the idea that Clay was the one and only suspect is preposterous. But the jury was lied to even to the communication of December 1st, as Prosecution only told the jurors what they wanted them to know.

3

They were not told of the text message Walker sent to Chanin on December 1st, because Prosecution kept it off the list of communications they selectively shared with the jurors. Nor did they tell the jurors how many men Chanin had been in communication with even the week prior, as that would have destroyed the goods they sold to the jurors.

4

Prosecution stated that police only identified at least 3 potential friends or boyfriends (really?!) of Chanin. Then defense determined contact with several other men across the country.

5

So Prosecution suppressed other suspect evidence with pre­trial motions. There were closer to 2 dozen in the month of November alone that Chanin communicated with or met in ­person.

Reminder…there were 3 unidentified male DNA of the very few items tested.

Kathy Starbuck Nasholm
This is similar to the cases of Drew Peterson and Scott Peterson.
There were no fingerprints at the murder scene. It did not matter, because there was only one suspect.
Police discovered Chanin's death certificate hanging on a wall, during a search of Starbuck's house. Clay said he put it there, so he would not lose it.
1

Police did not discover Chanin's death certificate hanging on a wall.

Detective Drapeau knocked it off of a shelf and picked it up and pinned it to the wall to take a picture of it (as he testified to at trial), but SCSO reported to media that Clay had her death certificate as a trophy on the wall.

2

SCSO lied to the media so why would the jury not believe the authorities? The truth was not stated until 18 months later at trial, but most wouldn't know that.

Kathy Starbuck Nasholm
Clay cooperated with the police investigation and testified during his trial.
Divided Families
Chanin's family believes Clay murdered Chanin. Clay's children think he is innocent.
Clay and the kids were disgusted with Chanin's choices and behavior. She was putting the kids in danger, herself in danger, destroyed their marriage again, and lied to everyone who knew her.

Chanin absolutely snowed her own family, church friends and acquaintances.

Kathy Starbuck Nasholm
Clay Starbuck was sentenced to life in prison without the possiblity of parole.
I'll be thrilled at the day my Dad does get a fair trial and the real killer is found.

Blake Starbuck
Did Clay Starbuck Kill Chanin Starbuck?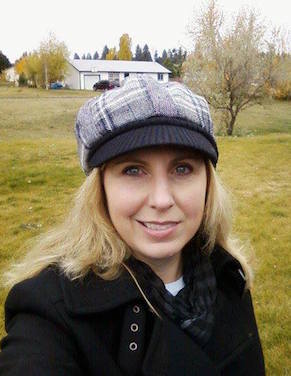 Clay Starbuck was barred from having contact with his three minor children.
Nevertheless, Clay Starbuck's children believe he is innocent. Visit Starbuck Family: Free Clay for additional information about the case and excluded evidence.
Where are the men who left DNA on Chanin's phone?
That right there to me should have been a big enough flag that either multiple people were involved or it was someone other than me.

Clay Starbuck
Former Boyfriends
Suzanne Lee Elliott represented Clay Starbuck for his appeal. Elliott describes herself as "one of the most experienced appellate lawyers in Washington State."
Ms. Elliott attempted to introduce evidence that police ignored other suspects before arresting Clay Starbuck.
Sadly, Appellate Court decided:
Mr. Starbuck contends that he should have been permitted to put on evidence of Ms. Starbuck's sexual relationships with other men and the sexually explicit text messages sent by Mr. Walker. The trial court concluded that such evidence did not "provide the clear connection" between the "alternative named suspects and the homicide."
Why Was Clay Starbuck the Only Suspect?
Chanin pursued sexual relationships online for 14 years.
Who were her lovers? Did any of Chanin's former lovers want to murder her? Surprisingly, the Court of Appeals of Washington decided:
Clay Starbuck was the one person who had repeatedly expressed his anger about her lifestyle. That anger was not shared by the men who currently were dating her.

Court of Appeals of Washington, Division 3
1

The two men Prosecution used as witnesses for the State were Walker and Kenlein, who both said they were not dating Chanin, that their relationship was sexual in nature.

2

You state that anger was not shared by the men who currently were dating her.

Even though they stated they were not dating Chanin and that it was a sexual relationship, Prosecution kept using the word dating. Chanin didn't date, says her closest church friends.

3

Deputy Dutton delayed welfare check because he knew Chanin left all hours of the day and night with different guys, which is reported but not testified to from the witness stand. They shut all of that down with pre­trial motions.

4

Maybe if detectives would have correctly spelled and accurately represented vital information requested by subpoena, there would be factual and complete information as to all those Chanin was in contact with days and weeks prior. That would be a valid and appropriate investigation.

Kathy Starbuck Nasholm
Innocence Projects
Clay Starbuck deserves a new trial. His five children deserve their Dad. I think Clay is innocent. An "innocence project" might help him.
The Innocence Project
Barry Scheck and Peter Neufield started The Innocence Project in 1992, to exonerate convicts through DNA evidence. They might be interested in helping Mr. Starbuck, considering all the unidentified DNA found in this case. See how to submit a case to The Innocence Project for additional information.
Innocence Project Northwest
The Innocence Project Northwest help innocent convicts in Washington regain their freedom. University of Washington Law School students help process cases, and contact lobbyists. Students helped pass a law that requires DNA evidence to be saved.
See how to request free legal assistance from IPNW, for additional information.
More Bad Marriages