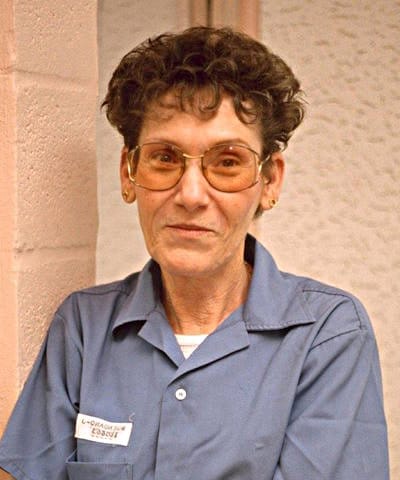 Judy Buenoano was a sociopath. Marrying her was fatal. Knowing her was risky.
Judias Welty, named for her mother, was born in 1943.
Mom died of tuberculosis when Judy was a child. Judy's grandparents raised Judy and her infant brother after Mom's death. Judy's two older brothers were sent for adoption.
Judy rejoined her father ten years later. Her father remarried and moved to Roswell, New Mexico.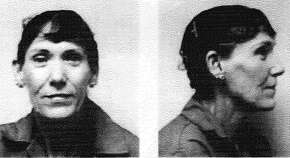 She was not happy in Roswell. Judy claimed her stepmother and stepbrothers starved her, and burned her with cigarettes.
Judy ended her abuse by scalding two stepbrothers with hot grease, and beating her parents. A Judge sentenced her to 60 days in jail.
Judias Welty did not go home after her release. She finished high school in a reformatory, graduating in 1959.
After high school, Judy worked as a nurse's aide in Roswell, using the name "Anna Schultz." On March 30, 1961 she gave birth to an illegitimate son, Michael Schultz.
Judy Goodyear
Air Force Sergeant James Goodyear married Judy and adopted Michael in 1961. James Goodyear, Junior was born in 1966. Daughter Kimberly was born in 1967, after the family moved to Orlando, Florida. Judy opened Conway Acres Child Care Center in Florida, with James listed as co-owner.
Judy Goodyear might have been happy until James returned to Florida after a year in Vietnam. However, three months after returning to Florida, James got sick and seemed to die of natural causes.
The widow received $95,000 from James Goodyear's death: $33,000 from life insurance and $62,000 from the Veterans Administration. Judy would have gotten away with her husband's murder, but her greed was stimulated by easy money.
Judy collected an additional $90,000 from a house fire, a few months after her husband's death. Her payment was increased, because she claimed 150 bottles of Chanel perfume were destroyed in the fire.
Don't Annoy Judy Buenoano
Judy met Bobby Joe Morris in 1971, and moved to Pensacola, Florida. She placed her son Michael Goodyear in foster care, because his academic and disciplinary problems annoyed her.
Morris moved his family to Trinidad, Colorado in 1977. Judy and Michael joined him, after Judy collected another insurance from a house fire. Judy changed her name to Judias Morris in Colorado.
Bobby Joe Morris and Judy were suspects in a 1974 murder, committed in Bobby Joe's hometown of Bewston, Alabama. Police found a corpse with a gunshot wound and a slashed throat in a hotel room. The case was not solved, because police did not recover a bullet or fingerprints from the crime scene.
Judy reportedly told Bobby, "The son of a bitch shouldn't have come up here in the first place. He knew if he came up here he was gonna die."
Bobby Joe Morris went to to San Rafael Hospital after a sudden illness, on January 4, 1978. Unfortunately, the hospital could not diagnose his illness.
Just like Frank Rodriguez, the hospital released Bobby Joe Morris to his murderer. Morris survived for one week under Judy's care, after his discharge.
She was the beneficiary of three life insurance policies on Morris.
Bobby Joe Morris said, "Judi, we should never have done that terrible thing," before he died.
How did Judy earn Morris's loyalty? Why did he commit a murder with her, and stay with her after the murder?
On May 3, 1978 Judy changed her last name to Buenoano, "Goodyear" in Spanish. The Buenoano family moved to Pensacola, Florida. Michael joined the Army and completed basic training.
Michael visited his mother on his way to Fort Benning, Georgia. However, Michael was too sick for basic training when he reported for duty. The Army subsequently diagnosed Michael with arsenic poisoning.
Afterward, Michael received heavy leg and arm braces, because the arsenic destroyed his muscles. One day after Michael's hospital discharge, Judy inexplicably invited James Junior and Michael, wearing his new braces, for a canoe ride.
Death of Michael Goodyear
The canoe overturned. James and Judy swam to shore, but Michael drowned in his braces. Michael's death provided Judy with the proceeds of three life insurance policies.
I still don't believe she drowned her son. I saw her cry during the trial.
It wasn't an accident. The guy was paralyzed. He had 15 pounds of braces on his legs without a life jacket.
Ms. Buenoano was not prosecuted for Michael's death, although handwriting experts thought his signature was forged on two policies.
Judy collected over $240,000 from the deaths of James Goodyear, Michael Buenoano and Bobby Joe Morris.
Judy Buenoano Like Arsenic
Two of Buenoano's acquaintances, Constance Lang and Mary Beverly Owens, testified that Buenoano discussed with each of them on separate occasions the subject of killing a person by adding arsenic to his food.

Lang testified that Buenoano had joked on several occasions about lacing her husband's food with arsenic.

Owens testified that after hearing an upsetting phone call between Owens and her husband, Buenoano suggested that Owens take out more life insurance and then poison him with arsenic.   United States Court of Appeals. IN RE: Judy A. Buenoano
According to bank records, Judy worked as a licensed practical nurse for $3.50 an hour at the time of Michael's death. After Michael's death, Judy opened a beauty salon in Gulf Breeze, Florida.
Judy Buenoano Fakes a Pregnancy
John Gentry II was Judy's next victim. Gentry and Buenoano took out $50,000 life insurance policies on each other, after their engagement. However, Judy secretly increased his policy to $500,000.
Gentry said at one time she had a $500,000 life insurance policy on him. She told him it was cancelled, but it wasn't cancelled.
Judy told Gentry she was a nurse. She told friends Gentry had a terminal disease, to prepare them for his death by arsenic poisoning.
Then Judy gave Gentry "vitamins" that made him dizzy.
Their relationship ended after Judy told John she was pregnant. James went out to buy champagne, for a celebration. However, his car exploded before the celebration began.
The car bomb was her mistake. Judy should have cremated her victims and stuck to arsenic.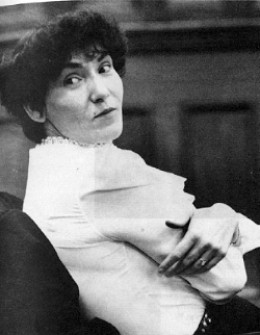 Unfortunately (for Judy), her car bomb did not kill John Gentry.
Police informed Gentry that Judy was not a nurse, and she could not get pregnant. An examination of John Gentry's vitamins found arsenic.
Police arrested Judy after a search of her house found wires and tape matching the car bomb. Telephone records linked her to the purchase of dynamite used for the bomb.
James Goodyear and Bobby Joe Morris were exhumed after Judy's arrest. Both bodies contained arsenic.
Police also exhumed another boyfriend, Gerald Dossett, but no charges were filed for his death.
Judy was the defendant in three trials: the murders of Goodyear and Morris, and attempting to murder Gentry.
Incredibly, a jury acquitted Judy and her son James of John Gentry's attempted murder.
Judy just went one murder too far. If she'd just let that last boyfriend alone, she probably could have walked away from the other murders.
Sentencing
Judy's sentence was 25 years to life for her son Michael's murder. She received a death sentence for poisoning James Goodyear.
Florida Supreme Court rejected Judy's appeal of her death sentence.
I would have found myself guilty if I were the jury.
Judy Buenoano denied everything. She told an interviewer:
I would like to clear the record for my grandson, I would like for him to know that his grandmother was not a murderer.
After her conviction, Judy Buenoano lived on Death Row in the Broward Correctional Institution for 13 years.
In prison, Judy passed a course from International Bible Institute to teach the Bible. She earned money selling knitted items, and used it to mail prayer tracts.
I send tracts and Bible studies all over the world, and it costs! But it's worth the effort!
Judy Buenoano was finally executed on March 30, 1998. It was Florida's first execution with female guards, escorting an inmate to their execution.
A person this cruel really needs to get what she deserves.
More Judy Buenoano References